By Alan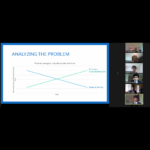 More than 6,600 students from 35 states across the country competed in local competitions that led into the 20th anniversary of the National Economics Challenge (NEC). Finals weekend (May 17-May 18) saw the top teams compete online for the chance to become national champions.
For the Critical Thinking Round, finalist teams had an hour each to prepare a presentation addressed the economic issues surround free college. Based on their performance in that round, the top two teams in each division battled for the championship in the Quiz Bowl Finals. This year's emcee was Karen Finerman, Chief Executive Officer of Metropolitan Capital Advisors and panelist on CNBC's Fast Money. The finals results:
DAVID RICARDO DIVISION:
Third place: Hunter College High School (NY)
Second place: Maggie L. Walker Governor's School for Government and International Studies (VA)
First place/ National Champions: Mount Hebron High School (MD)
ADAM SMITH DIVISION
Third place: Pioneer High School (MI)
Second place: Conestoga High School (PA)
First place/ National Champions: Mount Hebron High School (MD)
Photos from the event:
Special thanks to our generous NEC supporters:
–
SPECIAL THANKS TO OUR 2020 JUDGES
Steve Buckles, Principal Senior Lecturer in Economics, Vanderbilt University
William C. Dudley, Senior Research Scholar, Princeton University
Benjamin Friedman, William Joseph Maier Professor of Political Economy, Harvard University
Julie Heath, Executive Director, Alpaugh Professor of Economics, University of Cincinnati
Tonia Kaminsky, Partner and Senior Managing Director at Shufro, Rose & Co., LLC
Loretta Mester, President and Chief Executive Officer, Federal Reserve Bank of Cleveland
Jane S. Lopus, PhD, Director, Center for Economic Education, California State University
Rebecca Patterson, Co-Head of Investment Research, Bridgewater Associates
Colonel Dick Rankin, Former High School Economics Teacher, NEC Coach, and President, Wounded Warrior Ohana
The post RECAP: 2020 National Economics Challenge Finals appeared first on Council for Economic Education.